MARKETS VOLATILE BUT CHINA STIMULUS LIFTS MOOD
It was an exceptionally volatile month for stock markets with the main developed market indices losing substantial ground before experiencing a bear market rally in the closing days of May. A trifecta of factors was behind this turbulence: hawkish central banks, the ongoing impact of the Ukraine-Russia war on the macro economy and a slowdown in China as a result of its zero-Covid policy.
The 5% bounce-back in the S&P 500 in the final four trading days of the month saw the broad-based index end the month flat but still 13% lower for the year to date. The
Nasdaq didn't manage to get into positive territory and remained a hefty 22% in the red after its rout over the past six months.
Most European equity markets also remain in the red year-to-date but not to the extent of long-dated bonds, which have fallen in value by around 20% since the start of the year (and in some cases by more). Commodities remain strong with the broad- based Bloomberg index up by 33% this year.
The end of month fillip saw US stocks end their longest losing streak in two decades.
First Up Week in Eight
Longest losing streak for US stocks since 2001 comes to an end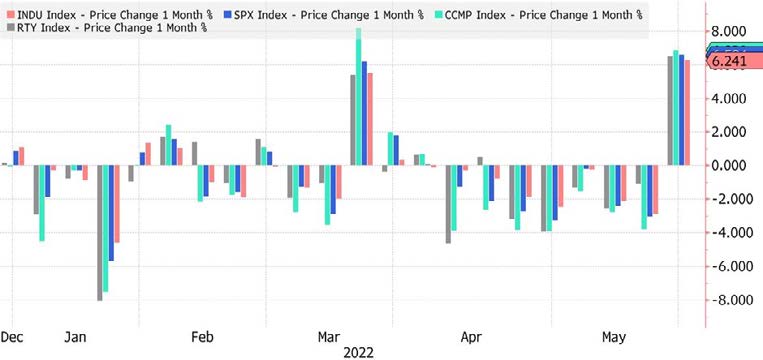 Source: Bloomberg
Bloomberg data also show the S&P500 Index daily trading range having exceeded one percent 89% of the time this year, the most sustained period of daily variations since 2008.
Buckle Up
S&P 500 is off to its wildest start to a year since 2008

Source: Strategas Securities, LLC
The range of performance across sectors was extreme, with energy stocks up almost 60%. The worst performing sectors—communication services and consumer discretionary stocks—have declined well over 20%.
Energized
S&P 500 energy stocks have surged ahead of other sectors in 2022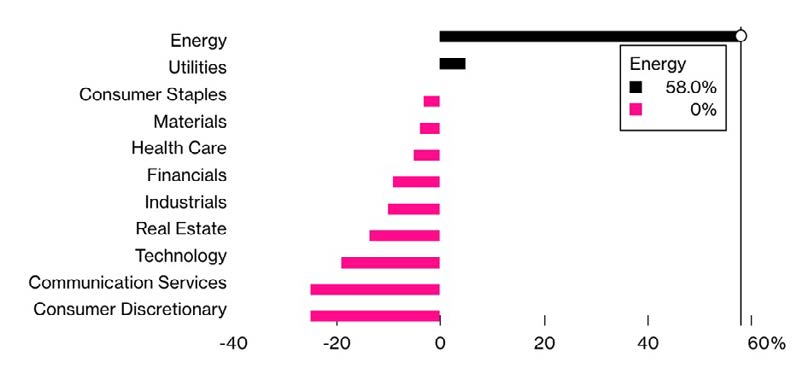 Source: Bloomberg
Sentiment turning for Chinese stocks?
Chinese stocks surprised by eking out a 0.3% gain during a month when the economic news was particularly dire. The CSI 300 Index remains 18.5% off for the year to date but a massive stimulus and an easing of Covid restrictions, alongside emerging signs that infection rates are declining, should provide positive tailwinds for Chines equities in the months to come.
Sharp Slump
Covid and lockdowns drive China into contraction for a second time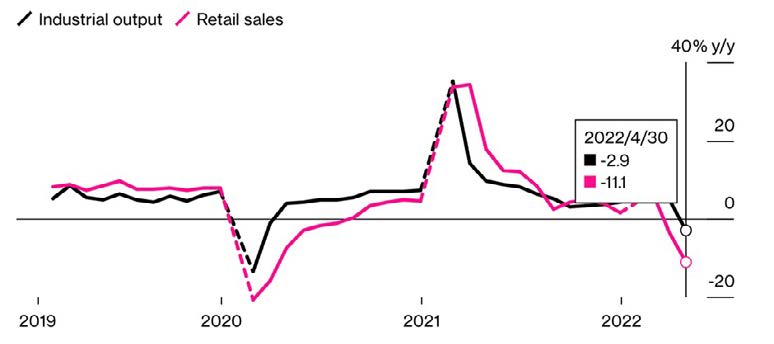 Source: China's National Bureau of Statistics
In late May, the government announced a 33-point stimulus package of almost
500 billion yuan that included 140 billion yuan ($21 billion) in additional tax rebates, emergency loans for the aviation sector and 300 billion yuan in railway construction bonds. These measures are intended to provide a cushion for an economy suffering from the government's stringent implementation of its zero-Covid policy. Exposure in the New Horizon strategies was added at the end of May.
Record Reduction
China's 2022 tax cuts to exceed 2020's in attempt to cushion virus impact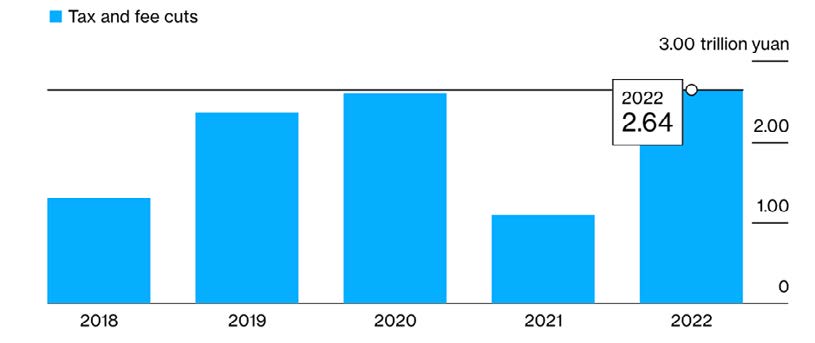 Source: Chinese government work reports; China National Radio
Technology shares starting to offer value?
Meanwhile in the US, technology stocks have taken a real beating this year but an increasing number of analysts are convinced that valuations have declined to the point where these stocks
Tech Wreck
Nasdaq 100's bear market at its low was the worst since the global financial crisis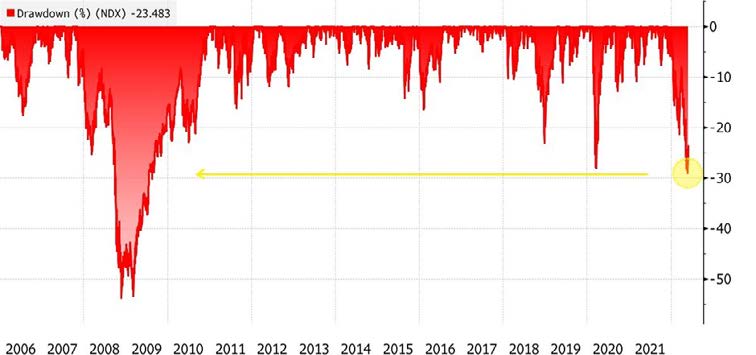 Source: Bloomberg
CEOs and investors who sat on a panel at Davos during the World Economic Forum pointed to the fact that even though there has been a $1 trillion sell down in technology stocks, good business models and strong revenue generation mean fundamentals are much more supportive than they were during the dotcom bubble. The industry is trading at close to its three-year average PE ratio of 29.0x and some of the tech giants are trading at cheaper valuations than traditional value stocks.
For example, Facebook parent Meta Platforms Inc.is trading at 14 times forward earnings, cheaper than prominent value stocks like Berkshire Hathaway Inc., Johnson & Johnson, UnitedHealth Group Inc. and Procter & Gamble Co.
Google parent Alphabet Inc. is also trading at a relatively low multiple. However, the prices of Amazon and Tesla are still based on a high multiple of current profits. Overall, Morningstar metrics suggest technology stocks are at their cheapest since March 2009 when markets were beginning to recover from the global financial crisis.
Changing Stripes – Longtime growth stocks Google and Facebook are now cheaper than many value stocks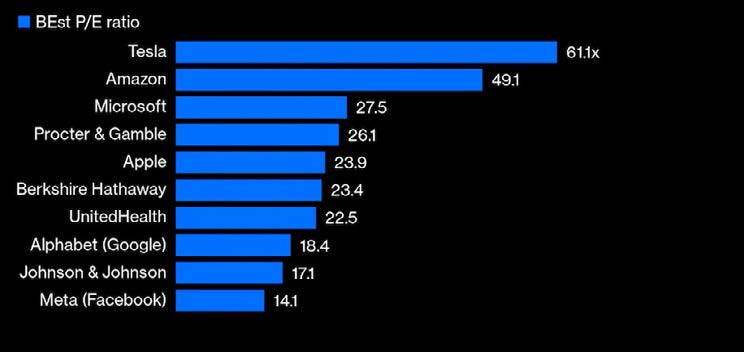 Source: Bloomberg
GLOBAL MARKET RETURNS – MAY 2022