Solutions QROPS pour Français et Européens aillant travaillés au Royaume Uni…
Qui sommes-nous ?
Depuis de nombreuses années déjà, notre équipe aide les ressortissants européens de toutes nationalités, à rapatrier leurs " UK personal pension schemes" dans la zone euro.
Daniel BUTCHER, gérant de DTB WEALTH MANAGEMENT a été pendant de nombreuses années le scheme manager du QROPS d'AXA France : "PERP Confort AXA".
Nos experts ont tous la qualité de Conseiller en Investissement Financier (CIF). Membres de l'ANACOFI en FRANCE, de la FEIFA (Fédaration of European Independant Financial Advisers) sur le plan Européen, et fait rare, enregistrés auprès de la FCA du Royaume Uni. Notre cabinet détient des passeports de Libres Prestations de Services pour la majorité des pays de la zone UE.
Aujourd'hui, fort de ce bagage réglementaire, suites à de nombreuses années de recherches et avec une quinzaine de partenariats signés avec plusieurs acteurs majeurs du domaine, nous sommes devenus les véritables spécialistes Français des transferts des fonds de pensions du ROYAUME UNI vers la zone Euro.
C'est désormais à travers trois offres que nous ouvrons la route des QROPS aux Français, Belges et tous les européens au sens large.
A qui s'adressent nos offres ?
Vous avez travaillé au ROYAUME UNI, ou vous avez cotisé sur un ou plusieurs fonds de pensions (Personal Pension Schemes).
Aujourd'hui, vous êtes rentrés dans votre pays d'origine, et vous ne cotisez donc plus sur ces contrats investis en Livres Sterling, outre-manche et en gestion dans des groupes tel qu'Aegon, Standard life, Scottish Equitable, Canada life, AVIVA ou d'autres encore.
Vous n'avez aucune visibilité à long terme sur vos capitaux et surtout n'avez aucune intention de retourner au ROYAUME UNI. Le transfert QROPS, et nos offres sont faites pour vous.
Pourquoi rapatrier vos "UK Personal Pension Schemes" ?
Laisser vos fonds de pensions au Royaume Uni, ne vous permettra pas d'anticiper sereinement votre retraite, et engendrera des problématiques tel que :
Le taux de change en constante variation,
L'impossibilité de percevoir votre capital
Impossibilité de ramener celui-ci dans votre pays de résidence, sous peine de lourdes pénalités (55% du montant de la pension)
L'obligation de prendre des rentes ou annuités viagères, plus ou moins lourdement taxées dans votre pays d'origine,
Le "Tax free Lump Sum" appelé PCLS, qui permet de sortir 25% d'un "personal pension plan" , est réservé aux résidents fiscaux britanniques. Pour les non-résidents, il sera taxé comme une rente unique dans votre pays de résidence fiscale.
Le Brexit, marquera obligatoirement un changement dans la gestion des capitaux des étrangers restés au ROYAUME UNI, et sera probablement l'accélérateur dans votre prise de décision.
Autant de raison pour vous de ne pas laisser votre fonds de pensions au ROYAUME UNI !
Vous souhaitez ramener vos capitaux dans votre pays de résidence :
Grâce à la "Freedom of pension Act signé en Avril 2016 par le HMRC au UK" il est désormais possible de ramener vos capitaux transférés dans un premier temps vers un QROPS, jusqu'à votre pays de résidence fiscal.
Ce système s'appelle le "Flexi Access" ou le "Rachat Total". Il n'est réalisable qu'après l'âge légal de 55 ans. Pour les Français, par exemple l'assurance vie est un excellent réceptacle dans ce cas.
Les Belges préféreront les contrats Branch 23, ou l'assurance vie Luxembourgeoise.
Vous êtes un comité d'entreprises et vos salariés vous sollicitent pour des solutions QROPS :
DTB WEALTH MANAGEMENT se distingue également par sa force à adapter nos offres à tous les âges, tous les montants, toutes les nationalités, que vous soyez particulier, ou représentant de comités d'entreprises ou de syndicat inter-entreprise, ayant ou ayant eu, leur siège social au ROYAUME UNI. Nous travaillons par exemple avec la SNPL, ou le comité d'entreprise d'EasyJet France….
Schema du Transfert QROPS pour Residents Fiscaux Français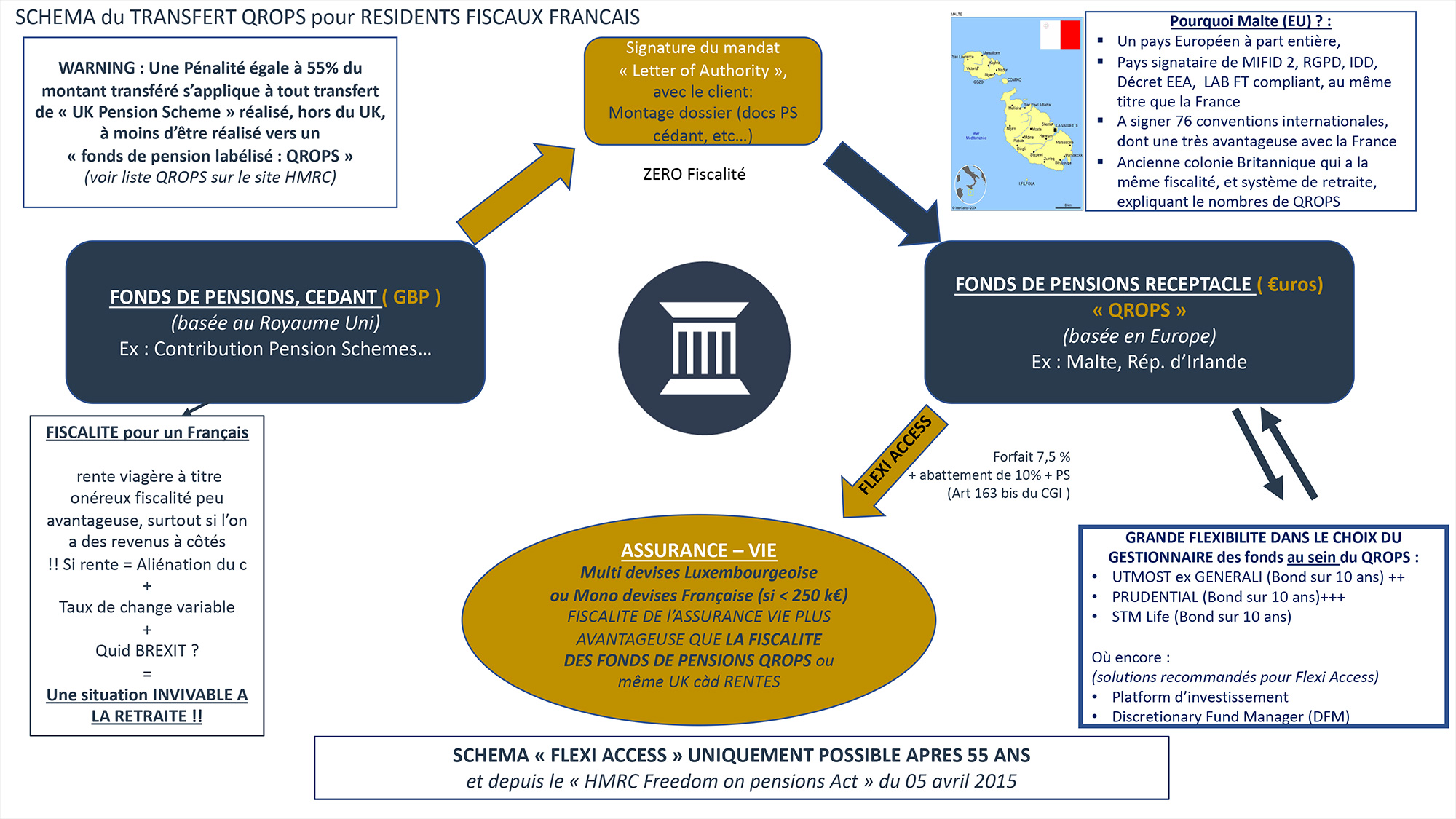 Cliquez sur l'image pour l'agrandir
I had the pleasure to get a presentation on this topic by Daniel. It was very helpful to see some examples from the past.
When a considerable amount of money is involved it's important to work with someone who's trustworthy. Daniel was able to gain my trust from the start. The procedure is lengthy and involves a lot of paperwork, but Daniel was always available to give some assistance and clarify issues where needed. I very much appreciated his reactivity and willingness to help out.
Even after the transfer of the funds, I could always rely on Daniel for questions and answers. I can only recommend everyone who's interested in a similar transfer to contacte Daniel and work with him and his office. Many Thanks.
Daniel Butcher kindly helped me in transferring my UK pension to a QROPS. I had worked with Daniel in the past as he had already helped me transferring a smaller fund to France, where I now reside.
I find him easy to work with and he makes sure to take time to explain the different steps in the process and is always there to answer any questions.
He also knows the French and the UK tax and pension systems very well. I would recommend him as a financial advisor.
NOS TROIS SOLUTIONS « QROPS » DEDIEES AUX IMPATRIES :
Solution N° 1
DTB CLASSIQUE
Dédié aux salariés aillant quittés le Royaume Uni, entre 18 et 55 ans. (N.B. : possibilité de rester après 55 ans).
Une solution à long terme.
Un transfert en trois étapes
UK PENSION SCHEME
QROPS Maltais
Insurance Bond de grand groupes connus, offrant sécurité et sérénité, généralement pour le long terme (+ de 5 ans).
Solution N° 2
DTB FLEXI ACCESS
Dédié aux personnes aillant travaillés au UK, de plus de 55 ans souhaitant rapatrier leurs fonds de pensions dans leurs pays d'origine (France…)
Une solution de rachat total et immédiat.
Un transfert en trois étapes
UK PENSION SCHEME
QROPS Maltais puis FLEXI ACCESS (Rachat Totale) QUASI IMMEDIAT vers votre PAYS D'ORIGINE
RE INVESTISSEMENT EN ASSURANCE VIE EN FRANCE ou au LUXEMBOURGE.
Solution N° 3
DTB TRANSITION
Dédiée aux employés proches des 55 ans ou ne souhaitant pas investir dans la solution long terme, (VIA – Classique).
Une solution moyen terme et transitoire, en attendant vos 55 ans. Offre une grande flexibilité et un large choix de sous-jacent d'investissement ?
Un transfert en trois étapes
UK PENSION SCHEME
QROPS Maltais
Platform, avec ou sans Gestion discrétionnaire (DFM). Liberté totale dans le choix des fonds. Flexibilité dans la gestion.