Our Regulators
Here at DTB Wealth Management we feel honoured to help you find the safest and most lucrative ways to invest and protect your assets. From pensions to Assurance Vie planning, we are regulated and licensed by all applicable financial organisations in France to provide you with an unbeatable service that fuses extensive market knowledge, trust and unwavering reliability.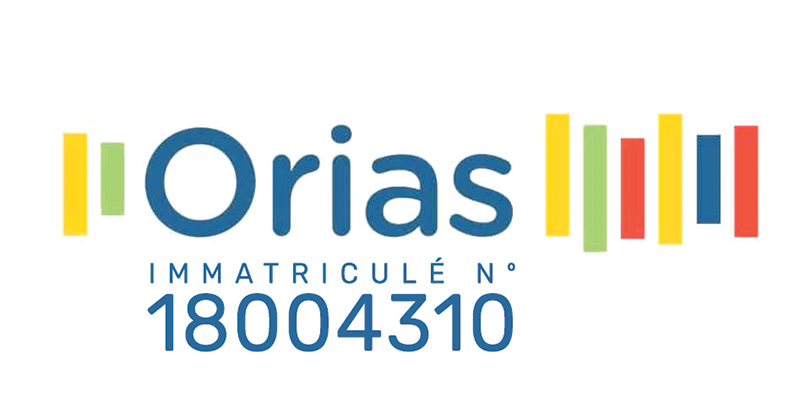 Full protection from the AMF and APCR
Clients should be aware that all French tax residents are fully protected by the French Autorité des marchés financiers (AMF) and the Autorité de contrôle prudentiel et de résolution (ACPR). These are the equivalent of the Financial Conduct Authority (FCA) in the UK.
All regulated financial companies and advisors in France are listed at www.orias.fr – to search for us follow this URL and enter the "No d'immatriculation" 18004310. You can choose whether the information is displayed in English or in French. Then click on our company name and you will be directed to DTB Wealth Management's profile page, which includes the AMF and APCR logos.
Although our main activity is in France, if you click on "afficher" or "show" on the bottom right-hand side of the page, you will see a list of other EU countries we are approved to work in.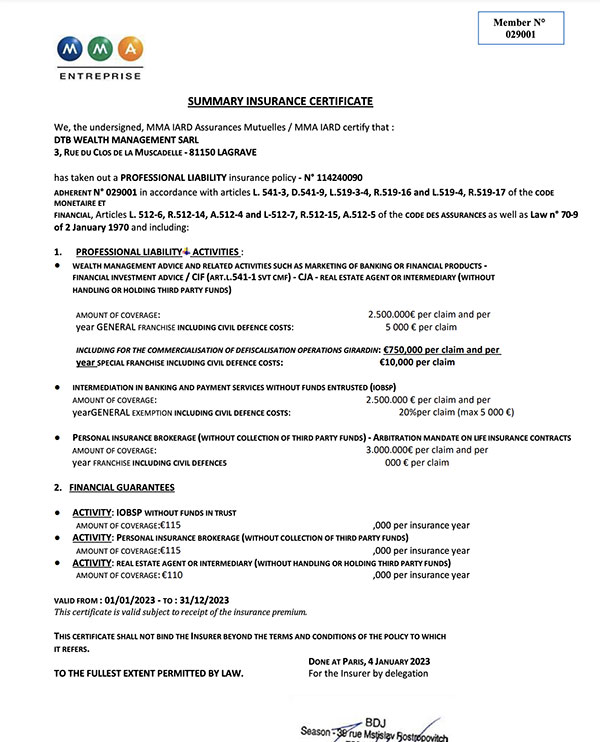 Professional Indemnity Insurance
VALID FROM : 01/01/2023 – TO : 31/12/2023
This certificate is valid subject to receipt of the insurance premium.
DTB WEALTH MANAGEMENT SARL
has taken out a PROFESSIONAL LIABILITY insurance policy – N° 114240090
ADHERENT N° 029001 in accordance with articles L. 541-3, D.541-9, L.519-3-4, R.519-16 and L.519-4, R.519-17 of the CODE MONETAIRE ET FINANCIAL, Articles L. 512-6, R.512-14, A.512-4 and L-512-7, R.512-15, A.512-5 of the CODE DES ASSURANCES as well as Law n° 70-9 of 2 January 1970 and including:
1. PROFESSIONAL LIABILITY ACTIVITIES :
2. FINANCIAL GUARANTEES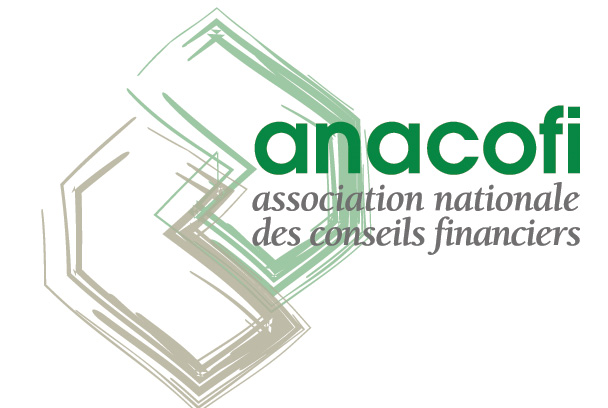 Regulated by ANACOFI
The Association nationale des conseils financiers (ANACOFI) is France's national association of financial advisors. As a Conseil en Gestion de Patrimoine" (CGP) – a "profession libérale" exercised by notaires, chartered accountants, lawyers and real estate agents – we must belong to one of the three associations that are regulated by the AMF and APCR, so we are registered with ANACOFI. The Via Network, of which DTB Management is part of, also belongs to the ANACOFI.
The ANACOFI distributes our licences, carries out biennial checks to ensure we are abiding by the law, provides obligatory training courses and reports any suspicious activity to the AMF or the ACPR.
To find us on the website at www.anacofi.asso.fr, enter DTB Wealth Management in the "Trouver un Conseiller" field on the bottom left-hand side of the page. Our licence number is E008994.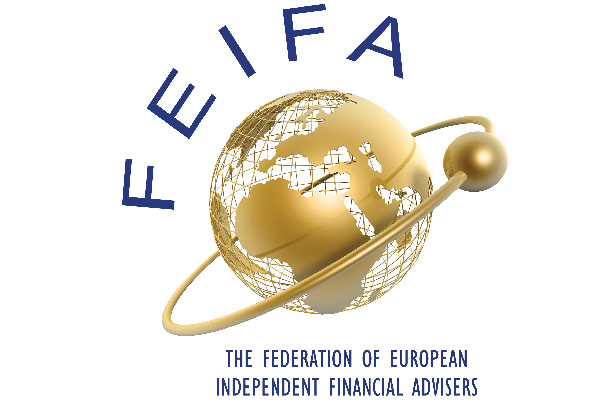 The Federation of European Financial Advisors (FEIFA)
DTB Wealth Management is a member of the Federation of European Financial Advisors (FEIFA). This is a powerful non-profit trade association that carefully monitors the expat industry and provides guidance, product information and industry updates to English-speaking financial advisors operating in mainland Europe.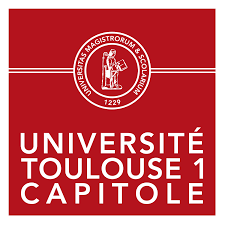 MASTERS DEGREE
DIPLOME du MASTER 2 INGENIERIE PATRIMONIALE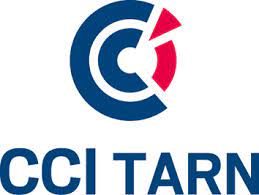 CARTE PROFESSIONNELLE
Carte professionnelle n° : CPI81012018000032896 Valable jusqu'au : 28/07/2024 Délivrée par : CCI de Tarn
Le président : BOSSI Michel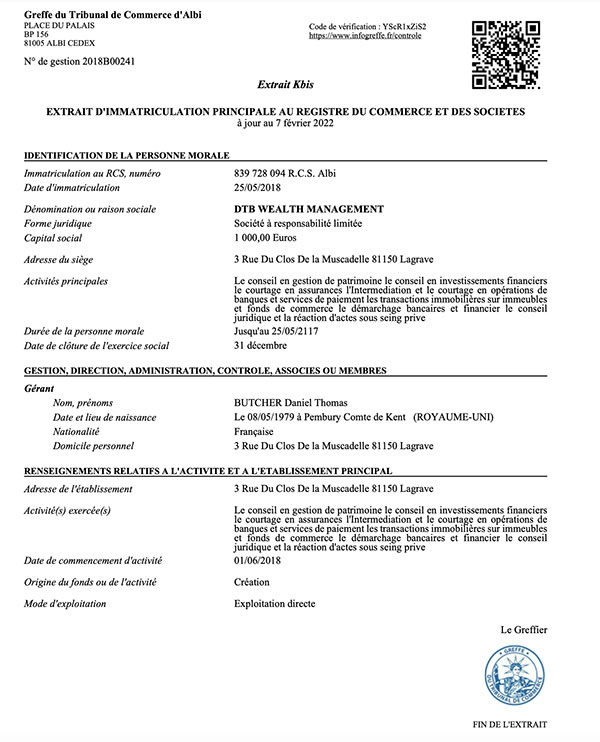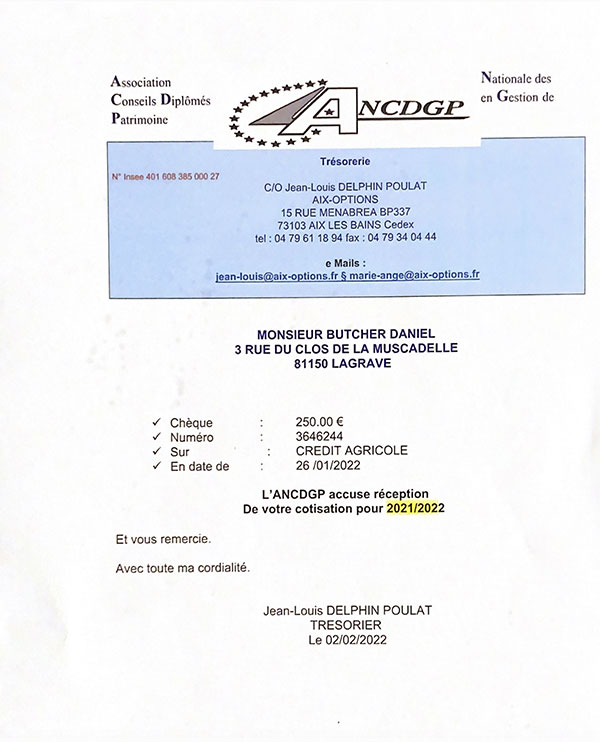 Our Certifications & Our Experts
We are committed to providing you with a superior service. If you require further information about any of these organisations or DTB Wealth Management's memberships, then please get in touch by email at contact@dtbwealthmanagement.com or by telephone on: +33 (0)5 63 420 161 and we'll be happy to discuss any aspect in more detail with you.

I am extremely happy that I chose Daniel Butcher as the financial adviser to arrange the transfer of my UK pension to France.
He is perfectly bilingual and understands well the tax and regulatory requirements of both countries.
Moreover, his personal style and dedication to the task have been outstanding.
He has always been available for me and he meets his commitments reliably whilst clearly communicating with me on any issues or obstacles that had to be overcome. I recommend him most strongly.
Daniel Butcher kindly helped me in transferring my UK pension to a QROPS. 
I had worked with Daniel in the past as he had already helped me in transferring a smaller fund to France where I now reside.
I find him easy to work with and he makes sure to take time to explain the different steps in the process and is always there to answer any questions.
He also knows the French and the UK tax and pension systems very well.
Our permanent move from the UK to France took almost 4 years to complete. We were in touch with Daniel for much of that time. I am from a Financial Services background myself & found his knowledge & expertise on both markets invaluable.
He delivered tailored advice to meet our specific financial needs. In addition he passed on very useful advice on other matters such as Healthcare, Will planning & even Pet Insurance. His manner is engaging, reassuring & measured. There are very real differences between the UK & French regimes. In particular managing timescales. In our opinion professional advice is required. In summary we would fully recommend Daniel to look after your interests both pre & post sale.
Main Office:
Futuropolis,
Parc de la Grande Plaine,
8 rue Maryse,
31500 Toulouse
British Expat Office:
10 Lices Pompidou,
81000 Albi
Email: contact@dtbwealthmanagement.com
Tel: +33 (0)6 72 34 48 50