Service Oriented Furnished Accommodation
Purchasing a Service oriented furnished accommodation «LMNP», and becoming a non professional landlord, is probably the best way for anyFrench residents, UK expat investors, or French expatriates to build a substantial real estate portfolio, and receive a regular, totally tax free income and without having to manage the property
< BACK TO PROPERTY FOR INVESTMENT
MAIN OBJECTIVES
• An attractive average return of 4-5% net of charges and taxes, regular and guaranteed,
• Earnings sheltered from inflation and fully or largely exempt from income tax due to the depreciation mechanism applied on furnished rental property,
• Bring peace of mind to the investor, as the entire management of the property is delegated to a professional operator,
TAX PRINCIPLE
• Reclaiming VAT:
Among the tax advantages is the possibility to obtain a refund of VAT on acquired any new property.
•Tax exemption on Rental income:
For the investor, the advantage is the possibility to benefit from rents exempt from income tax, as well as social tax due to the depreciation of the property over time: Depreciation allows you to deduct a portion of the purchase price of your property from rental income for tax purposes.
TYPES OF ACCOMMODATION WHICH QUALIFY FOR LMNP STATUS
• Tourist residences
• Business residences
• Student residences
• Senior residences
DTB Wealth management offers:
• Offers a large choice of programs,
• Guarantees of a reasonable price with carefully selected partners
• Will help you finance the project, and set up the mortgage
• Accompany you all through the procedure
• A totally bilingual service and experience of the french legal system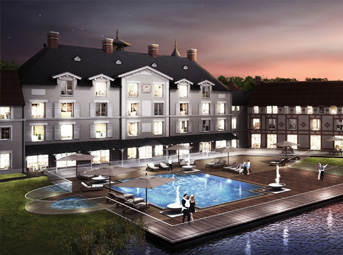 TOURIST RESIDENCES located in the heart of the Disneyland Paris Golf course
Designed by Pierre Diener, a well-known architect who specialises in tourism architecture, the estate and its huge green spaces elegantly extend the Golf course.The building has 1500sqm of space dedicated to relaxation, including a 380sqm restaurant, lounge bar, conference room, fitness room, heated outdoor swimming pool….The villas dispose of a swimming pool extended into a terrace and gardens offering up to 394sqm of sunbathing space. Each villa has its own unique view over the Golf course. From T5 to T6, the villas kitchen's are all open to the living room and dispose of a private bathroom in each room. In the heart of the Disneyland® Golf Club, less than 10 minutes from the attractions and 30 mn's by RER from the Eiffel Tower. Charles de Gaulle International Airport and the TGV train stations, are easily accessible by bus, taxi or RER.
• Completion: December, 2018
• An annual return of 4.6% HT
• From T5 to T6
• Price with VAT : from 649 312 €'s to 775 772 € TTC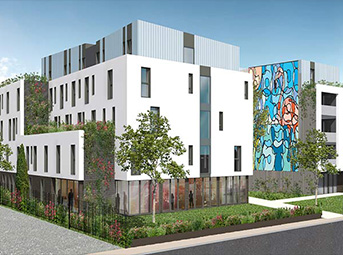 Student Residences
The residence, carefully designed to meet new environmental requirements, is located along Avenue Paul Bringuier in the immediate vicinity of all amenities (shops, medical centres, sports facilities, etc.).A real "coup de coeur" for this new student residence, which stands out for its modern architecture and artistic facade, which hosts a pop fresco by the artist Salamech, and is set against a backdrop of local fauna and flora.
• Completion: July 2020
• 3 apartments left (01/2019)
• From Studio to T2
• Price with VAT : 92 949 €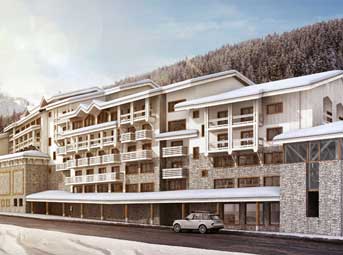 4 **** Resort – COURCHEVEL – Savoie (73)
Main characteristics :Located in a natural setting, ÉcrinBlanc faces the Aqua motion, on the road leading to Courchevel. The residence will be directly connected to the ski area by a new ski lift located a few meters away. This 4****resort includes a hotel and a tourist residence, which form a single building.Top-of-the-range services: restaurant with terrace, bar, fitness room, plenary room, snow garden… as well as private access to Aqua motion, Europe's largest mountain aquatic centre. The decoration of the 75 apartments combines a refined and authentic style, while emphasizing comfort, space and views. The geographical location : The largest skiable domain in the world Courchevel is the 9th busiest resort in the world. It's constant search for excellence has built it's notorious international reputation. Many facilities guarantee comfortable skiing on safe slopes and snow of recognized quality. Courchevel offers a wide range of activities to meet the desires of families. The resort consists of 5 villages: 5 altitudes, 5 atmospheres.
• Completion: 2019.
• An annual return of 3% HT.
• From T1 to T4 on 4 levels facing south.
• Price with VAT : from 261 057€.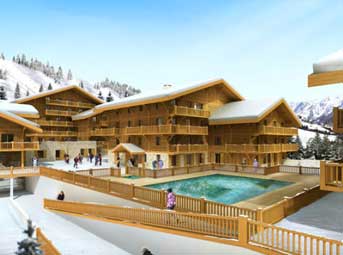 A high standard residence, in an internationally renowned resort located in "La Clusaz" – Hautes Savoie (74)
Main characteristics:
• A prestigious, renowned and friendly resort.
• A high standard residence.
• An income of 4% before VAT.
• From 63 500 € before VAT.
• A price per m² lower than the old one.
• A program benefiting from the Liquidity Commitment.
• Exclusive property management,
a guarantee of serenity.
• Leaseback possible (LMNP).
• Sold furnished.
The geographical location:
• La Clusaz: A dynamic and friendly ski resort.
• An internationally renowned resort, attracting more than 900,000 tourists each year.
• A location at the heart of the Annecy triangle, Geneva, Megève.
• An exceptional and preserved ski area.
• Snow from mid-December to the end of April, worthy of the highest alpine resorts.
The standing and authenticity of a 4**** residence 
• Less than 5 minutes walk from the
centre of the village of La Clusaz.
• A south-facing orientation and an unobstructed
view of the Aravis massif.
• A residence linked to the Bossonnet ski lifts
by a footbridge.
• 195 housing units from T1 to T3 and private ski areas.
• Top-of-the-range facilities and services.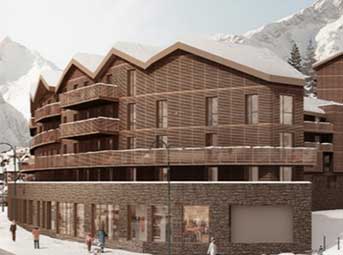 Aussonne (31)
Four star residential complex with indoor swimming pools, ski rooms…. at "Les Deux Alpes" (Isére-38)
Main characteristics:
• From 113 600 € HT
• An income of 4.2% excluding VAT
• 4 **** residence
• Leaseback
• Sold furnished
The geographical location:
• Europe's highest skiing area between 1 300 and 3 600m
• All kinds of skiing, off-piste paradise, countless mountain activities, dynamic après-ski lifestyles, vibrant nightlife, preserved heritage, traditional activities and international events, guarantee a high level of tourist attractiveness.
• An animated and dynamic ski resort
• Snow all year round