Pinel Law Investments
& Residential Property
"If you are French resident, and wish to build an estate the Pinellaw is a tax incentive scheme set up by the French Government, which grants tax reductions over a period of 6, 9 or 12 years, towards real estate investment."
< BACK TO PROPERTY FOR INVESTMENT
MAIN OBJECTIVES 
• Build up a real estate portfolio largely financed by your tenants, using the credit leverage effect, and your tax advantages.
• Receive additional income protected from inflation.
• To benefit from substantial tax reductions.

CONCEPT
The Pinel tax system enables French residents or UK expats seeking to invest in France to reduce their income tax for 12 years up to 21% of the total amount of their investment (29% if the property is in Overseas France) when acquiring a property that is generally new, and under certain conditions, one of them being the obligation to rent the property for 6, 9 or 12 years accordingly.
All our PINEL Law programs, are also available for "private purchase"
The same properties can be purchased solely for private use. Builtin well located areas of French towns, close to schools, university well deserved by public transport, easily accessible by car, with private car parks, close to commercial areas and shopping centers, these programs are extremely sought off. They also are brand new, and respect all the RT 2012 regulations, and are environment friendly
DTB Wealth management
• Will help you find the best opportunity.
• Guarantee the cost of the restoration work.
• Will help you finance the project.
• Accompany you.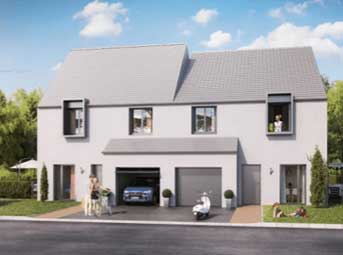 Rue de la Révolution des Œillets
COLOMBELLES – Normandy (14)
In Colombelles, in the heart of the Jean Jaurès residential area, our new residence Les Jardins de Colombelles, cleverly integrates 104-to 5-room houses and 303-room duplex apartments.Our properties meet the RT 2012 construction requirements, allowing optimal control of your energy consumption. Each building has a private garden and one or more parking spaces. Colombelles, a town of more than 6,000 inhabitants, enjoys a privileged living environment at the gateway to Caen. Directly adjacent to the ring road and the A13 motorway, the municipality has many assets that promote its development.
• Completion: December, 2019
• PINEL Law investment annual return : 4,93 %
• Flat T3 to House T4
• Price with VAT : from 156 500€'s to 248 000 € TTC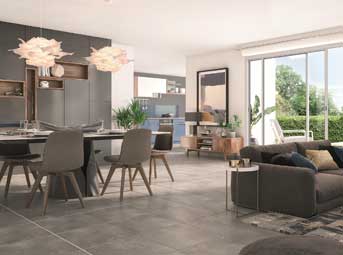 Aussonne (31)
The "L'azalée" residence is located on the Chemin de Peyrelong, 900m from the heart of Aussonne and only 4.5km from the future Parc des Expositions. Designed as a residential village with undeniable charm, the complex consists of a small collective building bordered by green spaces in the middle of the plot and 16 villas organized around it, each with a private garage and garden. A great harmony emerges between collective dwellings and individual houses through the distribution of volumes and the homogeneity of the architectural treatments chosen:grey and brick facades and zinc-type sloping roofs covered with flat red terracotta tiles for the villas and for the building.The whole gives an impression of limited height, perfectly in keeping with the pavilion spirit of the surroundings. All the apartments have a balcony or terrace, a real complementary room opening on to the natural spaces (collective and private gardens on the ground floor)and benefit from beautiful volumes and quality services.The project has 66 parking spaces and a space for two-wheeled vehicles. Designed in accordance with RT2012 and NF Habitat, the best thermal insulation solutions offer significant energy savings while protecting the environment. In addition, the sound insulation ensures optimal living comfort. The exceptional landscaped environment of this residence provides a sense of tranquility and well-being. Everything here is designed for your comfort and convenience, only a few minutes by car from Toulouse.
• Completion: July 2020
• 3 Apartments left (01/2019)
• From Studio to T2
• Price with VAT : 92 949€